about the Cottage
A typical local house of "Touraine", all made in "Tuffeau": the local stone used for all the Chateaux.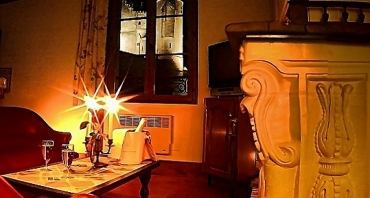 It is a large and comfortable house ; a total of 150 m2 (aprox.1600 ft2), on 3 floors with it's private terrace(1000ft2) in the garden, on the town's walls (12th century), making the place really unique.
You will pass a dawbridge, at the entrance of the street, to enter this very special neighborhood, it is like coming back in the 15th century - the street is a "dead end" and is in a "restored and protected zone" for its historic and fabulous monuments around.
The Cottage has been restored totally during 8 years to share it as a holidays week rental (self catering or gite in French") in 2009. Before it was the House's staff apartments, but it was closed and unused since ...1848.
Rewarded with 4 stars by "gites de France" for its high standard of comfort when it opened in 2009.
It is selected in the most prestigious guide, and most of guests loved the site .
Their reviews are the best way to feel confident.
The Cottage is part of the Owners property who live there all year long ; Of course, The Cottage, has its own entrance on the street and is totaly independant.
This street is the oldest in Loches and is just few hundred meters long
...and without trafic, very peaceful.
Its History
The house has been dated from the 15th century, but the place was occupied ... about 1000 years before.!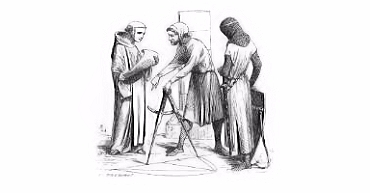 In fact, the small fort St Ours, where we are inside with high walls to protect us, and its dead end street inside ... are the oldest part of Loches, created by romans around 450.
An hermit monk, arrived here from south-west of France, and decided to stay exactly where we are, and started a first community around him ; he was named Ursus.
During his life time left, he organised and created a local economy: Mill on the river, public oven, directing agriculture and farming in the fields around as a real entrepreneur.
Quickly, our fort was not big enough, and the town started to grow around with a second wall of protection - a third wall, built around 12th century when Loches was taking more strategic importance, to resist to south invasion.
In 800, The Catholic church made him a Saint, and its name became less "latin" and more "french" from "Ursus" to "Ours" ; in 1010 the cathedral was built for him, at the return of the first crusad, just above its first living cave .
Our street and the fort took his name as "rue Saint Ours" and Fort Saint Ours .
Still Today, we are only 8 Houses in this historic small fort, from the dawbridge, starting our 200 meters(650 ft) street.
our equipment
Bathroom

Spacious with Hair-dryer, bathrobes, complete set of towel, washing-machine .Totaly tiled with fine ceramics ; Independent toilets.

Kitchen

Stainless and marble, Pro-Chef complete set copper-stainless saucepans, pressure cooker, oven, microwave, fridge, dish-washer.

Lounge

Leather sofas, in front of a medieval chimney ; many games, playcards, books, 37"tv, video/dvd player ; Internet Wifi connection.

Dinning room

Table cloth, napkens, and a very complete quality set of faience dishes and all the necessary kitchen equipment . boiler, coffee machine, .

Bedroom

Spacious and authentic 16th century oak beams . Large queen size high quality bedding, in a 18th century romantic four poster.

Ground floor and Garden

Book library, 2nd fridge+congelator.garden :large teak table and chairs, teak lounge chairs+ cuschins.
Consult our guests reviews talking about their experience...
You will find some too on tripadvisor where we were rewarded "travellers's choice in 2014, and had certificates of excellence every years since 2011 . In 2014 too, Tripadvisor decided also to reward our way to manage the property , as eco-responsible, with their new label "GreenLeaders", and our rank level is Gold. Our guestbook may also give you reviews from our guests who stayed here.